Conservative Musings
Our goal is to have intelligent discussion of the topics of the day. We realize everyone has their opinion and they should be allowed to express it in a discussion forum without calling each other names. We learn from discussion and not from name calling or argument.We use cookies to personalise content and ads, to provide social media features and to analyse our traffic. We also share information about your use of our site with our social media, advertising and analytics partners. See details
Friday, May 7, 2021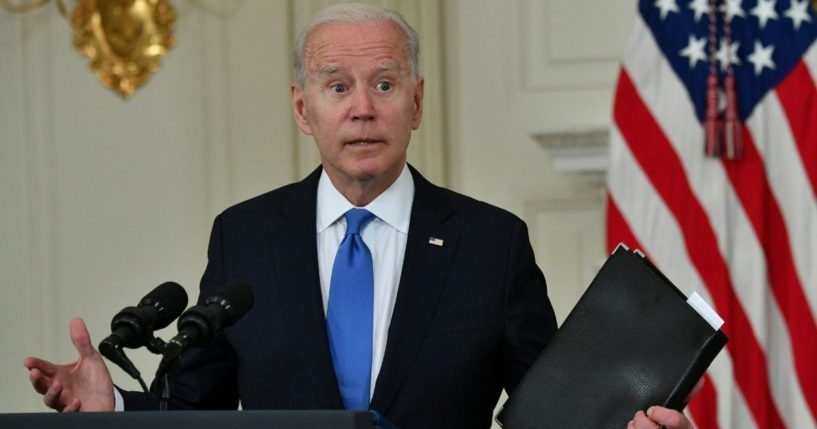 Poll Shows Majority of Voters Doubt Biden's Ability to Tackle Terror Threats
Andrew Jose
May 7, 2021 at 7:24am
A new poll found that a majority of Americans eligible to vote do not see President Joe Biden as competent enough to deal with terrorism.
According to the Rasmussen poll, released Monday, only 30 percent of likely U.S. voters expressed that they were very confident in Biden's ability to deal with terrorist threats to the United States.
Roughly 16 percent said they were somewhat confident in the president's ability to deal with such threats.
Twelve percent were not very confident and 40 percent were not at all confident in Biden's ability to deal with terrorist threats.
The results, which had a 95 percent level of confidence and a margin of sampling error of plus or minus 3 points, were from a survey Rasmussen Reports conducted between April 29 and May 2 among 1,000 likely voters in the country.
The five questions asked were:
• "How closely have you followed recent news reports about terrorist threats to the United States?"
• "Which is the greater threat to the United States, foreign terrorism or domestic terrorism?"
• "Has the threat of terrorism gone up or down since Joe Biden became president? Or has the threat remained about the same?"
• "How confident are you in President Biden's ability to deal with terrorist threats to the United States?"
• "Was the January 6 riot by some Trump supporters at the U.S. Capitol a terrorist act?"
Do you think Biden can defend America properly against terror threats?
The survey, conducted online and over the phone, also found that most respondents believed domestic terrorism was a bigger threat to the United States than foreign terrorism.
According to the poll, the likelihood of Democrats concluding that domestic terrorism was a bigger threat than foreign terrorism was at 70 percent, while that of Republicans was at 42 percent and that of independents 61 percent, Newsmax reported.
Republican voters were two times more likely than their Democratic counterparts to say that the threat of terrorism has increased, according to the outlet.
Around 48 percent of survey respondents said the threat terror poses has risen since Biden took office, while 29 percent of them believe it is just the same.
Only 14 percent think the threat has gone down since Biden's inauguration, according to Newsmax.
As for the question of whether the Jan. 6 Capitol riot counted as terrorism, respondents were split.
Forty-six percent said it was a terrorist act, according to Newsmax, while 45 percent disagreed.
Maricopa County Officials Refuse to Turn Over Subpoenaed Devices Used in 2020 Election
by Gabriel Keane | National File
Unspecified "security risk to law enforcement data" in officials' refusal to turn over subpoenaed internet routers to state legislature
Image Credit:
OLIVIER TOURON/AFP via Getty Images
Law enforcement officials in Maricopa County, Arizona are refusing to turn over electronic devices subpoenaed by the Arizona State Legislature this week, claiming that compliance with the legislature's lawful order would create an unspecified "security risk" to "law enforcement data."
A letter signed by the Maricopa County Attorney's Office and addressed to former Arizona Secretary of State Ken Bennett vigorously defended officials' decision to not turn over internet routers, but did not elaborate on the purported risk that complying with the subpoena would cause.
"While the County was delivering the subpoenaed material to the Senate's custody on Thursday, April 22, 2021, MCAO was notified that delivering routers, or 'virtual images' of routers, posed a significant security risk to law enforcement data utilized by the Maricopa County Sheriff's Office as well as numerous federal agencies," the letter stated, adding, "We also learned that if criminal elements or others gained access to this data, it might compromise county and federal law enforcement efforts and put the lives of law enforcement personnel at risk."

The letter continued, "For the past week, we have attempted to find a solution that would allow the County to provide virtual images of the routers as we had planned. But we have been unable to find a way to eliminate the significant risks to MCSO and its state and federal law enforcement partners."
As National File previously reported, Arizona Democrats recently settled a lawsuit with a firm involved in the audit of ballots cast in Maricopa County during the 2020 election:
After a lengthy lawsuit that saw the Democrats achieve few victories in their goal of stopping the audit of the 2020 ballots in Maricopa County, Arizona, they have reached a settlement with the firm involved in the audit and the Senate Republicans that will see the firm, Cyber Ninjas, cease verifying the signatures on early voting envelopes with the signatures on file from the voter.
With only 9 days left to go before the audit is set to be completed, signature verification will cease immediately. According to the settlement, Cyber Ninjas "and their agents will not compare signatures on early ballot envelopes with signatures from the voter registration file.The Senate Defendants warrant and represent that they are not currently comparing signatures on early ballot envelopes with signatures from the voter registration file, and will notify Plaintiffs within 48hours of any decision to undertake such signature comparison and afford Plaintiffs 48 hours to respond to resolve any concerns." Additionally, "If the parties cannot resolve the issue in a mutually agreeable manner, Plaintiffs may seek emergency injunctive and/or declaratory relief in court to seek compliance with the law."
Thursday, May 6, 2021
Wisconsin dairy farmer with two prosthetic legs sues Biden administration over 'racist' COVID relief plan that disqualifies him because he is white
Adam Faust is a plaintiff in the suit filed in federal court in Green Bay last week
At issue is loan forgiveness program in Biden's COVID-19 stimulus package
Non-white farmers are eligible for the program, but white farmers are not
Faust, who has two prosthetic legs, argues that the program is racist
By KEITH GRIFFITH FOR DAILYMAIL.COM and ASSOCIATED PRESS
PUBLISHED: | UPDATED:
A dairy farmer in Wisconsin who is physically disabled has sued the Biden administration over a COVID relief program that excludes white farmers, arguing the program is racist.
Adam Faust, who runs a herd of 140 Holsteins on his family farm in Chilton, joined other plaintiffs in the lawsuit filed last week in Green Bay, alleging the loan forgiveness program illegally discriminates against them.
At issue is a $4 billion program tucked into the Biden administration's COVID-19 stimulus plan that forgives loans for farmers and ranchers who are black, native American, Hispanic, or Asian - but not those who are white.
Dailymail.co.uk: News, Sport, Showbiz, Celebrities from Daily Mail
'It was just out and out racist, and I really don't think that there should be racism allowed in the federal government at any level,' Faust told WLUK-TV.
A dairy farmer in Wisconsin who is physically disabled has sued the Biden administration over a COVID relief program that excludes white farmers, arguing the program is racist. Adam Faust, who runs a herd of 140 Holsteins on his family farm in Chilton, joined other plaintiffs in the lawsuit filed last week in Green Bay
Faust (left) and his attorney (right) appeared on Tucker Carlson's Fox News show (pictured) on Wednesday to discuss his lawsuit
Faust was born with spina bifida, a rare birth defect, and his leg was amputated after a farm accident later in life resulted in an infection.
Last year his other leg was amputated due to complications from diabetes, and he now uses two prosthetic legs.
On Wednesday night, Faust appeared in an interview on Fox News, and argued that it was unfair to create racial criteria for participation in the relief program.
'I mean, racism against anybody is wrong. We can't have a government picking and choosing who they are going to give any program to based solely on the color of their skin,' he said.
'Everything that we have all learned growing up, is "racism was wrong", and now, all of a sudden, the federal government seems to think that racism is acceptable in certain ways,' he said.
Activists have hailed Biden's stimulus plan as a means of finally helping non-white farmers, who they say have been discriminated against for years.
Faust's attorney Rick Esenberg joined the interview, saying 'There is no such thing as benign discrimination. There is no such thing as a little 'makeup discrimination' to even things out.'
Faust (pictured with his wife) was born with spina bifida, a rare birth defect, and both his legs were later amputated
Faust relies on prosthetics to work his farm, which consists of 93 owned acres and just over 400 acres of rented land
'I mean, look, we fought a civil war. We had a lengthy civil rights movement to acknowledge the principal that was in our founding documents, that we are all to be treated as individuals, and this really disturbing mood we have about equity instead of equality of opportunity will not end well,' said Esenberg.
The group of plaintiffs joining the lawsuit to challenge the program includes farmers from Wisconsin, Minnesota, South Dakota and Ohio.
The suit contends that excluding white farmers from the program amounts to a violation of the plaintiffs' constitutional rights.
'Were plaintiffs eligible for the loan forgiveness benefit, they would have the opportunity to make additional investments in their property, expand their farms, purchase equipment and supplies, and otherwise support their families and local communities,' the lawsuit said.
'Because plaintiffs are ineligible to even apply for the program solely due to their race, they have been denied the equal protection of the law and therefore suffered harm.'
The U.S. Department of Agriculture issued a statement saying it was reviewing the lawsuit with the U.S. Department of Justice, but that the USDA plans to continue to offer loan forgiveness to 'socially disadvantaged' farmers.
Faust has grown his herd over the years, and it totals more than 140 head now
Faust bought the 93 owned acres from his father, continuing the family tradition of farming
Attorneys for the conservative Wisconsin Institute for Law and Liberty filed the action on the white farmers' behalf in federal court in Green Bay.
The filing seeks a court order prohibiting the USDA from applying racial classifications when determining eligibility for loan modifications and payments under the stimulus plan. It also seeks unspecified damages.
Non-white farmers have maintained for decades that they have been unfairly denied farm loans and other government assistance.
The USDA in 1999 and 2010 settled lawsuits from black farmers accusing the agency of discriminating against them.
Less than two percent of direct loans from the Trump administration in 2020 went to black farmers -- however, just 1.3 percent of the farmers in the country are black, according to USDA data.
Some black farmers have also criticized Biden's Agriculture Secretary Tom Vilsack for failing to address a backlog of discrimination complaints and failing to hire minorities for high-level positions.
Vilsack, who served under President Barack Obama and returned to the role after President Joe Biden took office, said in a statement last month that generations of socially disadvantaged farmers have suffered due to systemic discrimination and a cycle of debt.
He has been trying to assure minority farming groups that he will work to stem racism within the USDA.
How Biden's American Rescue Plan offers $4bn in debt relief for farmers of color to 'address their historic discrimination by USDA'
Biden's $1.9trillion American Rescue Plan earmarked $4billion in debt relief for 'socially disadvantaged farmers and ranchers', focusing on 'a group whose members have been subjected to racial or ethnic prejudice.'
The debt relief aims to provide relief to agricultural producers of color who have experienced racial discrimination from federal lenders in the past.
The denial of loans to farmers of color by the USDA have a long history and have contributed to the lack of black farmers today. An investigation previously found black farmers lost more than 90 percent of the land they owned between 1910 and 1997. White farmers lost 2 percent.
The new legislation will forgive billions of dollars of debt to the black farming community and farmers of color to try and address the years of discrimination and stop the decline of black farmers.
However, the move has been met resistance from white farmers who complain that they have also been struggling during COVID-19 and insist the policy is racist.
The USDA already offers a multitude of 'Targeted Loan Funding' for 'socially disadvantaged farmers and ranchers' - which also include women - under its Farm Loan Programs.
The USDA's Farm service Agency (FSA) states: 'Loans to historically underserved and women farmers and ranchers are not a special type of loan program or loan type. Rather, this designation refers to a specific funding source known as Socially Disadvantaged Applicant (SDA) funding.'
'While FSA is committed to serving all farmers and ranchers, by statute, FSA targets a portion of all Guaranteed loan funds, Direct Operating and Direct Farm Ownership loan funds, Microloan funding, and Youth loans, to historically underserved farmers and ranchers, which include:
'Women, African-Americans, Alaskan Natives, American Indians, Hispanic, Asian, Native Hawaiians and Pacific Islanders.'
The SFA funding include loans to eligible farmers to buy and operate family-sized farms and ranches through direct and guaranteed farm ownership (FO) and operating loan (OL) funds.
Direct FO loans and OLs are made by FSA to eligible farmers. Guaranteed FO loans and OLs are made by lending institutions subject to federal or state
supervision (banks, savings and loans, and units of the Farm Credit System) and guaranteed by FSA.
OL funds may be used to purchase livestock, farm equipment and other operating expenses.
The also has the Down Payment Program to assist SDA and beginning farmers in purchasing a farm.
Land Contract Guarantees provide certain financial guarantees to the seller of a farm through a land contract sale to a beginning or SDA farmer.
Sale Of Inventory Farmland means that eligible SDA and beginning farmers are given first priority to purchase properties that the FSA advertises within 15 days of acquisition, at the appraised market value.