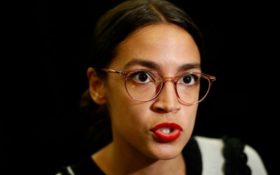 Ocasio-Cortez woke up to TERRIBLE news this morning (ouch!)
Rep. Alexandria Ocasio-Cortez, D-N.Y., has been slammed by a whirlwind of bad news this week. Friday morning, she received the final blow — because even the mainstream media is sick of her act.
Just how rough was the New York socialist's week?
It doesn't get much worse if you're a politician.
But that was just the beginning.
And still, the bad news of Ocasio-Cortez kept coming.
On Wednesday, she was caught lying about her test scores to a New York City panel of far-left activists. The activists had gathered to encourage the boycotting of standardized testing because they're "racist" and "sexist."
Ocasio-Cortez couldn't help but gloat that she'd gotten a "99th percentile" score during one of these so-called sexist "high-stakes test" — but was later called out by her own supporters.
That couldn't possibly be true, attendee Diane Ravitch later pointed out in her blog.
In other words, she was either flat out wrong, or flat out lied.
Think that's all? That's only halfway through the week.
He pointed to a recent GOP congressional candidate's commercial from North Carolina's third district as an example.
"Alexandria Ocasio-Cortez: she has the media, she has the followers, but bless her heart, she has some terrible ideas," Republican candidate Michele Nix says in her latest campaign ad.
"Guaranteeing government jobs for some, while killing small-town jobs for others," Nix says. "Her 'green deal' is a bad deal for North Carolina."
You can see the ad here —
Just when her credibility is on the brink, pundits are asking if she's forcing a faked "Obama-like" accent? That's a rough week.
And it's not the end — expect more of the same moving forward.
Ocasio-Cortez is so divisive, people can't stop talking about her.
The more the public finds out about her, the more she's disliked.
Just three months into her first term in office, Ocasio-Cortez is struggling to keep her head above water.
At this rate, there may not be a second term.