Illinois House approves major income tax hike as Republicans break with Rauner
SPRINGFIELD, Ill. • The Illinois House on Sunday approved a major income tax increase as several Republicans broke ranks with Gov. Bruce Rauner amid the intense pressure of a budget impasse that's entered its third year.
Rauner immediately vowed to veto the measure should the Illinois Senate approve it.
"Under Speaker Madigan's direction, legislators chose to double down on higher taxes while protecting the special interests and refusing to reform the status quo. It's a repeat of the failed policies that created this financial crisis and caused jobs and taxpayers to flee" Rauner said in a statement.
"Illinois families don't deserve to have more of the hard-earned money taken from them when the legislature has done little to restore confidence in government or grow jobs. Illinois families deserve more jobs, property tax relief and term limits. But tonight they got more of the same."
The measure, which needed 71 votes to pass and got 72, is designed to start digging the state out of a morass left by the lengthy stalemate. Pressure to act had built up amid the stalemate between the Republican governor and Democratic House Speaker Michael Madigan, as public universities and social services languished and the threat of road construction workers being laid off after the holiday weekend loomed.
+2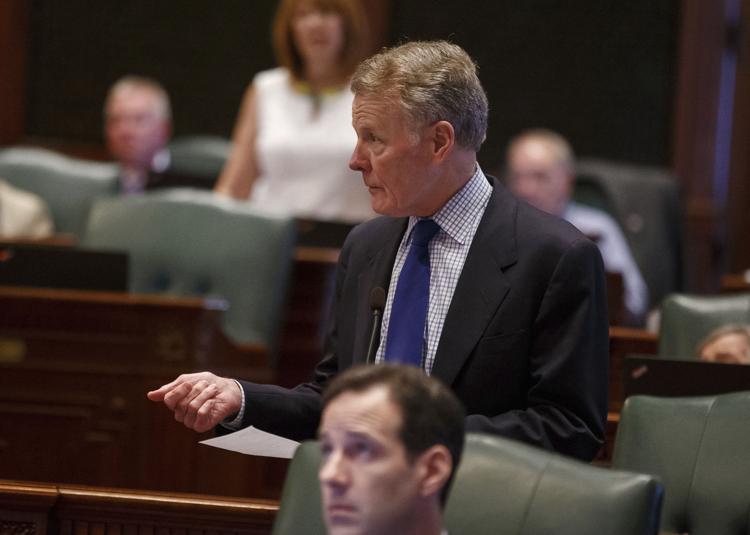 Rauner, a former private equity specialist from Winnetka, had spent tens of millions of dollars on legislative campaigns and TV ads to prop up the Illinois Republican Party as a counterweight to Madigan and his labor union allies. And Republican lawmakers largely had stuck by their governor — until Sunday.
The fissure emerged, and a pair Downstate Republicans summed up the split.
"For me right here today, this is the sword that I'm willing to die on," said Rep. Michael Unes, a Republican from East Peoria. "And if it costs me my seat, so be it."
Rep. Terri Bryant, R-Murphysboro, said while she hated taxes, as a fiscal conservative she could not stand by while the state can not pay billions of dollars in bills owed to small businesses.
Bryant teared up when explaining that she must do what is best for her district, which includes Southern Illinois University in Carbondale.
"I hope you will help me bring my university back," said Bryant, who added that she expected to face a primary challenge because of her vote.
Democratic leaders portrayed the vote as an attempt to let rank-and-file lawmakers from both sides do something to show their seriousness about putting an end to the budget stalemate in the face of concerns the state's credit rating will hit a first-in-the-nation junk status.
Republican leaders, though, saw it as a politically motivated attempt to force those in their ranks into a corner. Shortly before voting began, Democrats introduced revamped tax and spending plans, prompting House Republican Leader Jim Durkin to say the process had been "hijacked."
+2
"We are going to be voting for the largest tax increase in Illinois, but we forget that there are people outside of this chamber who are going to pay for it," Durkin said.
Sponsoring Rep. Greg Harris, Madigan's top budget negotiator, said it was time for lawmakers to "rise above" the partisan gridlock of the last several years that is likely to have repercussions for years to come.
"Today, we can change the awful trajectory of the last several years. We can vote. We can do our jobs. We can get it done," Harris said. "We all love this state and we know we cannot delay any longer."
Just two days earlier, nearly two dozen Republicans had joined Democrats to tentatively approve a $36.5 billion spending plan, with Madigan and Durkin telling lawmakers the vote was an expression of good faith as negotiations continued. State government currently brings in just $32 billion, meaning $4.5 billion in new taxes would be needed to make the books balance, although the state also has a large backlog of unpaid bills.
The proposal mirrors a plan the Senate passed earlier this year, which calls for raising the personal income tax rate from the current 3.75 percent to 4.95 percent.
Unlike the Senate measure, the tax hike would not be retroactive to Jan. 1 but instead would begin with the Saturday start of the budget year. That change, sought by Republicans, was designed to avoid having people pay even more in income taxes the rest of the year to catch up for the past six months. Also out is an expansion of sales taxes to some services. The tax hike would be permanent, against Rauner's desire to make it temporary to match a temporary property tax freeze.
By Saturday morning, the tone of optimism that had briefly overtaken the Capitol had started to shift. Madigan announced that no voting would occur on Sunday, which would have given his members some time to go home for a few nights. Durkin accused Madigan of trying to slow momentum.
That dispute sparked angry outbursts on the floor. Rep. Grant Wehrli of Naperville shouted that Madigan was "Speaker Junk," a reference to an anticipated credit rating downgrade to junk status as the state entered a new fiscal year without a budget in place.
Hours later, Madigan reversed course and announced his plans to put the tax plan up for a vote on Sunday, even though it was clear Durkin would not deliver the 30 GOP votes the speaker has asked of him. Democrats said it was time to see who was ready to vote for a tax hike, saying that some Republicans have expressed a desire to break from Rauner and support the plan.
Indeed, Rep. David Harris, R-Arlington Heights, voted in favor of the tax bill, saying Sunday that he was not elected "to preside over the financial destruction of this state."
"How many of our business people have told us they need stability?" Harris said. "This revenue bill gives them that and it ends some of the horrible dysfunction that has infected our government."
Rep. Reggie Phillips, R-Charleston, whose district is home to Eastern Illinois University, said he credited the state's college tuition grant program for making it possible for him to attend college. He also noted that he is a business owner in Charleston and the financial troubles caused to universities by the state budget impasse have rippled into university towns.
"I'd like to save my university. I'd like to save my town," Phillips said. "And so although it's against some of the principles that I came here for, I am going to vote for this bill."
+2
While Rauner has said he could support a tax hike, his signature comes with a list of conditions.
Rauner is pushing for a property tax freeze in exchange for his approval of an income tax hike. Democrats are open to a four-year freeze, but the governor argues that if a freeze is temporary, the income tax increase should also be temporary. Democrats have opposed that, saying it will lead to more financial problems down the road.
Another holdup centers on Rauner's push to overhaul the state's workers' compensation system. Rauner wants to cut fees doctors get for treating patients, which advocates say will help businesses control costs. Democrats say the fees were slashed several years ago and want tougher oversight of insurance rates, contending the industry hasn't passed along savings.
Rauner and his Republican allies have also pushed in negotiations to keep any eventual tax hike as low as possible. When House Democrats crafted their tax hike bill, they kept rates at the level that Senate Republicans had insisted upon when negotiations were taking place in the Senate.
That left some Democrats dissatisfied with the amount of money that would be available to fund programs and services that have been starved of cash for the past two years.
Rep. La Shawn Ford, D-Chicago, said the budget plan was "not a compassionate budget," and was instead a "compromise that's brought on by the threat of a junk bond rating not by the pain of the people."