Top House GOP leader shot at congressional baseball practice; gunman, identified as Belleville man, dies of injuries
ALEXANDRIA, Va. • U.S.Rep. Steve Scalise, a
Louisiana Republican, and two Capitol police
officers were shot Wednesday morning by a rifle-
wielding gunman at a congressional baseball
practice, authorities said.
President Donald Trump said the shooter - identified
enforcement as James T. Hodgkinson, 66, of Belleville -
died of his injuries after he was shot. Scalise was stable
after undergoing surgery.
Trump spoke during a brief televised statement and said
"everyone on that field is a public servant.
"We may have our differences, but we do well in times like
these...We can all agree that we are blessed to be American," he said.
The president also called Scalise "a fighter" and praised the
bravery of the Capitol police officers.
"Many lives would have been lost if not for the heroic
actions of the two capital police officers who took down
the gunman despite sustaining gunshot wounds during
a very, very brutal assault," the president said.
Trump was the first official to say that the shooter had died.
Scalise, 51, is the majority whip in the House. His office
confirmed he was shot in the hip and was undergoing
surgery; he was reported to be stable at a Washington
hospital.
His office statement said that before the surgery, Scalise
was "in good spirits and spoke to his wife by phone."
The attack at the early morning baseball practice also
wounded two Capitol police officers and a member of
Texas Rep. Roger Williams' staff. The FBI was taking
over the investigation, said Alexandria Police Chief
Michael Brown.
Police said it was too early to know if the congressmen
were targeted by the gunman.
BELLEVILLE MAN IDENTIFIED AS
SUSPECT
The Washington Post was the first media outlet to identify
Hodgkinson as the suspect.
On social media, a man using the name James T.
Hodgkinson has two Facebook pages.
+9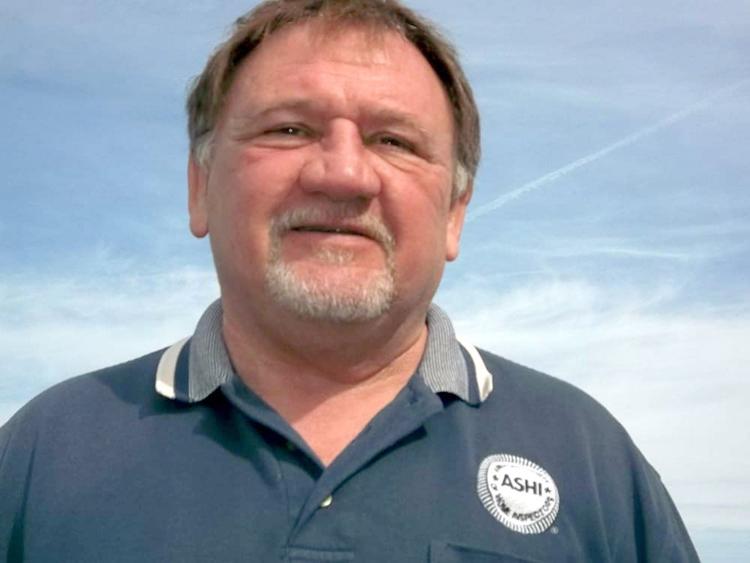 The most recent post, made Tuesday, shared a meme
featuring the bill from the animated short film series
Schoolhouse Rock. A little boy asks, "HOW DOES A
BILL WORK?" and the bill answers, "That's an easy one,
Billy. Corporations write the bill and then bribe congress
until it becomes law."
Another page
using the Hodgkinson name features similar
content.
Hodgkinson had owned a home inspection business, but
its license expired last year and was not renewed.
Both Facebook pages say he attended Belleville West
High School and Southern Illinois University-Edwardsville.
A spokesman for the university said a James T. Hodgkinson
took two classes at SIUE in the fall of 1971, transferring
in from Southwestern Illinois College. He didn't receive a
degree at SIUE.
The spokesman said the date of birth they had on file was
Dec. 12, 1950. A man with the same name and birthdate
has a criminal record in the Metro East that includes
arrests for battery, fleeing from police and resisting arrest
along with numerous traffic tickets.
His last run-in with police was in May of 2011 when he
was ticketed for failure to give notice of an accident and
improper lane usage. A battery charge in 2006 was
dismissed.
He was arrested in 1983 for criminal damage to property
in East St. Louis as well as fleeing and eluding a police
officer. Both charges were dismissed, according to court
records.
Hodgkinson's house sits at the end of a gravel lane, with
a few other houses around it. One neighbor walked to the
end of the gravel road to angrily confront reporters,
telling them to get off the property. The neighbor declined
to give any further information.
The neighbor later said "good luck figuring that one out"
about a motive. "It's sad but it's reality." Other neighbors
indicated the man had been gone from the house for
several months and one said, in reference to the
suspect's wife: "She's got enough problems.
SCENE AT THE FIELD
Rep. Mo. Brooks, an Alabama Republican, was at the
practice and said "behind third base, I see a rifle" and
he heard Scalise scream. He said Scalise crawled
toward the outfield, leaving a trail of blood.
Brooks said he thought more than 50 shots were fired
by the gunman.
A total of five people were medically evacuated from the
field, which is about 7 miles from the Capitol, across the
river in Virginia. It was not immediately clear if that figure
included the gunman, who was reportedly shot.
Rep. Mike Bishop, R-Mich., said Scalise was standing on
second base when he was shot.
"I was looking right at him," Bishop told Detroit radio
station WWJ. "He was a sitting duck."
Brooks said Scalise got some treatment at the scene
from colleagues.
"We started giving him the liquids, I put pressure on his
wound in his hip," Brooks said.
Katie Filous was walking her two dogs near the field when
she heard "a lot of shots, probably more than 20." She
said the shooting "went on for quite a while."
Filous said she saw the shooter hit a uniformed law
enforcement officer, who she said was later evacuated
by helicopter. She said the officer had gotten out of a
parked car, drawn a handgun and shouted something
to the gunman, who then fired.
Scalise is the No. 3 House Republican leader. He was first
elected to the House in 2008 after serving in the state
legislature. He is a close friend of Rep. Ann Wagner,
R-Ballwin.
President Donald Trump tweeted: "Rep. Steve Scalise
of Louisiana, a true friend and patriot, was badly injured
but will fully recover. Our thoughts and prayers are with
him."
All votes in the House were canceled Wednesday, as well
as many committee hearings. Tours were still scheduled
to go on.
Two Illinois congressmen, Reps. Rodney Davis,
R-Taylorville; and John Shimkus, R-Collinsville, are on
the Republicans' roster for the annual Capital baseball
game which had been set for Thursday night. Shimkus
was not at the practice.Davis was.
Davis was at bat when he and others heard a noise he
first associated with metal dropping at a construction site
"The next thing I remember is somebody on the field
yelling, 'run, he has got a gun," Davis told CNN.
He took temporary shelter in a dugout, he said, landing
on other people. Then he escaped to behind the first-
base-side dugout.
"I got to witness the heroism of the Capitol Police that
were there that were part of Steve Scalise's detail," he
said. "If they wouldn't have been there this would have
been a massacre of innocent people."
Davis showed up in the Capitol still in his baseball practice
uniform and cleats. He had a bloody elbow and arm from
wounds he apparently received when he tried to escape.
He said he and others from the field eventually retreated to
behind cars on a nearby street, until a good Samaritan took
them into his apartment, where they called police.
"This hatefulness that we see in this country today over
policy differences has got to stop," Davis said.
"I believe that there is such hatefulness in what we see
in American politics and policy discussions right now, in
the social media and the 24-hour news cycle," Davis
said. "This has got to stop. We can disagree on how to
govern - that is what makes our country great. But I am
here because we are all Americans and I think
Republicans and Democrats need to use this day, today,
to stand together and say, 'stop, lets work together let's
get things done.'
Sen. Rand Paul, R-Ky., and Jeff Flake, R-Ariz., also were
at the baseball field.
Flake said about 25 members of the House and Senate
were practicing. Rep. Joe Barton, R-Texas, is the team
manager, and he was standing near a batting cage when
the shooting began, Flake said.
Eugene Simpson Stadium is more than 60 years old, an
historic baseball complex where the team from T.C.
Williams, from the movie, "Remember the Titans," plays
home baseball games. There is an adjoining Little
League Field and soccer fields.
There were armed Capitol Police officers with the players.
"He ran around quite awhile with a leg wound" returning
fire with the shooter, and may have been the one who
shot the shooter, Flake said.
"What do you make of it – no idea, no idea," said Flake,
who said he got Scalise's telephone to alert his wife.
Scalise dragged himself to the outfield from where he was
shot at second base, Flake said, and after he and others
who had taken shelter in a dugout learned the shooter
was down they came to Scalise's aide.
Paul said he was at a batting cage down the right field
line when he heard the first shots.
Paul said he could see bullets hitting the dirt in right field,
and a staffer who was on the other side of a 15-foot fence
climb that fence to seek shelter behind the batting cage.
"I can tell you with absolute certainty nobody would have
survived without the Capitol Hill Police," Paul said. "It
would have been a massacre without them."
He said he saw two Capitol Police officers, a man and a
woman, wounded.
Paul said the annual game was slated to raise about
$600,000 for literacy, and that members looked forward
to it because it was an annual venue for bipartisan
fellowship.
"Who would want to kill people trying to do something
good?" Paul said.
Scalise is the first member of Congress to be shot since
former Arizona Rep. Gabby Giffords was shot in
January 2011.
Giffords was shot in the head by Jared Lee Loughner
at a "Congress On Your Corner" event at a Tucson grocery
store. Giffords, who authorities said was the main target of
the shooting, survived the attack but six others were
killed and an additional 12 were injured.
Loughner pleaded guilty in 2012 and was sentenced to
life in prison without the possibility of parole.
The Associated Press, CNN and The Washington
Post contributed information to this story.