We have always said that we will argue for the right of ANYONE, to say ANYTHING, regardless of the depravity, hate, or stupidity with which those words are expressed for on that day that those unacceptable words are not allowed to be uttered, our rights to express our opinions will evaporate.
So it is today in the US. This morning we awakened to the news of the deplorable protesters on the campus of Berkeley Campus of the University of California who burned and destroyed property and pepper sprayed and beat Trump supporters in the name of "freedom of speech". The crowd was upset that a conservative gay may might speak on campus.
Regardless of the words that Milo might have spoken or the sacred cows he might have slayed, closing down the free exchange of ideas is not something we should honor in America. In fact, if allowed to continue, it will be the end of America as we know it.
This is occurring daily on sites like Facebook. Those who express ideas contrary to the post are demeaned called names, "unfriended" or worse. There is no exchange of ideas, it is "my way or the highway" for most of those using the site. If you have the "depravity" to question the author, their response is to bring down the gates of Hell on the poor slob who disagrees.
We have been called racists because we are concerned with Islamic terrorists, even though they are not a race; called misogynist because we disagreed with the outcome of the women's march; and called a terrorist and a Nazi because we support the President and this was only last week.
And one of the worst things is that the people who disagree with you do not even take the time to read the article or video you post as a counterpoint or the statement we make to disagree. (Maybe they cannot read.) They just launch into their series of vindictive, hateful, vile accusations as if that will win the argument for them. It doesn't. When one has to respond in such language it means they have nothing to back up the thought process except the "party line" and when that doesn't work, they have nothing.
The worst development we have seen at the events were threats on the President's life. Whether it was Madonna "thinking" about burning down the White House (obviously with Trump in it) at the Women's March or wanting the military to have a coup to remove the President or the "Kill Trump" signs that we saw last night and at other anti-Trump rallies. This is beyond crazy and someone who is not mentally balanced or who wants to be a hero for the cause, will take this as a suggestion for their chance to be remembered forever. Their 15 minutes of fame.
Unfortunately
, we have not seen the last of the stupidity shown last night at Berkeley. There is a nationwide general strike that is being planned for February 17 and other events nearly every month for the balance of the year. 2017 is not going to be a good one for those of us who love America and don't want to see it destroyed.
As we stated, peaceful opposition to others viewpoints is fine However, this is quickly changing into the Russian Revolution where anarchists made their statements with blood, bullets and death.
All Americans should redouble their efforts to peacefully and respectfully discuss our differences. The only way to resolve them is not with pepper spray, with barriers crashing into buildings, with bats, boards being used as clubs or by destroying property in the name of "freedom."
What we saw last night was not civil discourse, it was anarchy. What we saw was the squelching of freedom of speech for Milo but also freedom of association for those who wanted to hear his story by cowards who covered their faces with bandanas. These are not proud Americans, they are America haters.


***LIVE UPDATES*** MILO UC Berkeley Show Evacuated As Masked Anti-MILO Protesters Start Fires, Swarm Building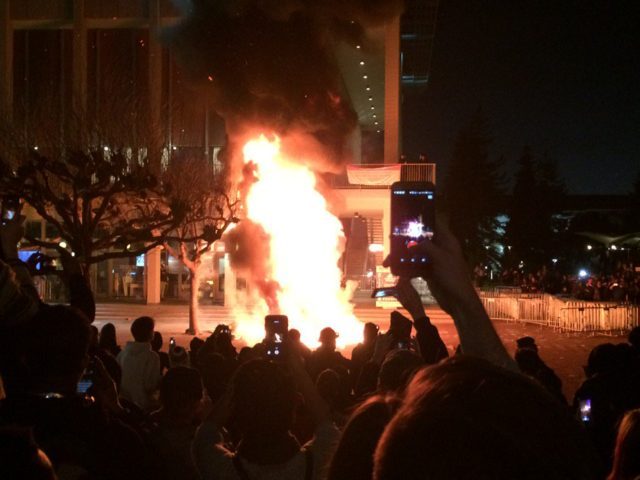 Breitbart Senior Editor MILO's event at UC Berkeley tonight has been evacuated following violence and several fires started by masked "anti-fascist" protesters.
This is just the beginning. When will all the fools who are still supporting Trump realize what is at stake?

https://t.co/wd0ny0PH33
One of Milo's MAGA C.H.U.D. fans actually SHOT a protestor at the University of Washington, but fires at Berkeley are the end of America
We condemn in the strongest possible terms the violence and unlawful behavior that was on display, and deeply regret that those tactics will now overshadow the efforts to engage in legitimate and lawful protest against the performer's presence and perspectives.

The University and the UCPD went to extraordinary lengths to plan for this event and put the appropriate resources in place in order to maintain security. Officials were in contact with other campuses and paid close attention to lessons learned at the speaker's prior events. Dozens of additional police officers were on duty. Multiple methods of crowd control were in place. Ultimately and unfortunately, however, it was simply impossible to maintain order given the level of threat, disruption, and violence.

We regret that the threats and unlawful actions of a few have interfered with the exercise of First Amendment rights on a campus that is proud of its history and legacy as home of the Free Speech Movement. As Chancellor Dirks made clear in his message to the Berkeley campus community, while Mr. Yiannopoulos views, tactics and rhetoric are profoundly contrary to our own, we are bound by the Constitution, the law, our values, and the campus's Principles of Community to enable free expression across the full spectrum of opinion and perspective.
Masked protesters have also been spotted gathering at the campus, some of whom lit pyrotechnics and tore down barriers.
Just saw a mob of like 100 people with masks in Berkeley walking toward Milo Yaninazipolus event at UC. Please fuck him up!!

#PunchNazis
As protesters have amassed outside, police have worked to secure the event venue in preparation for MILO's final talk on the Dangerous Faggot Tour tonight.