Massachusetts sheriff offers Trump inmate labor to build The Wall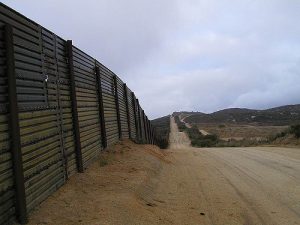 Donald Trump seems to be moving forward with his campaign promise to build a wall. But who will build it? Massachusetts Sheriff Thomas Hodgson has an idea:
get inmates to do it
.
Bristol County Sheriff Thomas M. Hodgson detailed the offer as he was sworn in to a fourth term in office on Wednesday. He hopes Mr. Trump will take him up on the plan, which he said would pay dividends for the country and the inmates.
"I can think of no other project that would have such a positive impact on our inmates and our country than building this wall," Sheriff Hodgson said in remarks prepared for his swearing-in ceremony. "Aside from learning and perfecting construction skills, the symbolism of these inmates building a wall to prevent crime in communities around the country, and to preserve jobs and work opportunities for them and other Americans upon release, can be very powerful."
Hodgson's idea doesn't stop at the wall, either. His goal is to build a network of community service-oriented jails in which inmates could be deployed to help rebuild after natural disasters and act as the labor pool for major infrastructure projects.
It certainly could be argued that Hodgson's idea would take away potential jobs from blue collar Americans. However, Jessica Vaughan, policy studies director at the Center for Immigration Studies, points out that inmates are often among those most affected by illegal immigration:
"Let's not forget that some of the people most harmed by illegal immigration are people who have not had the chance to acquire education or skills, who sometimes turn to crime as a result, so if this project helps address their life challenges simultaneously from a policy angle and a personal angle, that's really worth it," she said.
She added: "And if illegal immigration is successfully slowed and enforcement increased in the interior, then construction is one of the industries where there should be some better job opportunities for Americans and legal immigrants."
Additionally, Vaughan stated that border surveillance tools would help deter absconding inmates.
Do you think Trump should adopt Sheriff Hodgson's idea?