Report: Somalis given access to secured areas at major U.S. airports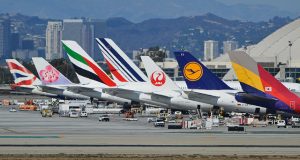 Somalis Given Access to Sensitive Information
(Washington, DC)
– Judicial Watch today released
31 pages
of records from U.S. Customs and Border Protection revealing that the Department of Homeland Security has given
Somalis
"community engagement tours," including security briefings, in secured areas at least three major U.S. airports – Los Angeles, Minneapolis, and Columbus, Ohio.
The records came in response to a May 2016 Freedom of Information Act (FOIA) request, which sought records, documents and communications regarding a "Community Engagement Tour" in Minneapolis-St. Paul Airport on February 18, 2016.
The briefings provided to the Somali groups were so sensitive that in 14 instances the agency redacted portions of the records under Freedom of Information Act (FOIA)
exemption (B)(7)(e)
,
the law-enforcement "risk circumvention" exemption, which reads:
Exemption 7(E) of the Freedom of Information Act affords protection to all law enforcement information that would disclose techniques and procedures for law enforcement investigations or prosecutions, or would disclose guidelines for law enforcement investigations or prosecutions if such disclosure could reasonably be expected to risk circumvention of the law.
In another instance, Customs and Border Protection exempted under (B)(7)(e) a portion of a February 16, 2016, "
Minute by Minute Agenda
" provided during a tour/briefing of the Minneapolis-St. Paul International Airport (MSP). The material that was withheld from Judicial Watch as too law-enforcement sensitive – but provided in full to the Somali group – included a section entitled: "TSA Overview — Processing [Redacted]." The invitees were provided briefings of the Global Entry system, APC [Automated Passport Control] system, secondary screening procedures, baggage-screening procedures and given tours of the holding cells/interview rooms.
Notes from the February Minneapolis St. Paul Airport tour include: "Current CBP and TSA
job vacancies
were discussed. Attendees responded with requests for DHS outreach efforts during Somali community events to further advertise these positions to interested individuals."
The newly released records also
reveal
:
Eight senior ranking Homeland Security and Customs officials were tasked with accompanying and briefing the Somalis on the February 18, 2016, Minneapolis Airport tour, including the Minneapolis Area Port Director, the Assistant Port Director, the Watch Commander, a Homeland Security Civil Rights and Civil Liberties Senior Policy Advisor (flown in from Washington), the TSA Federal Security Director and TSA Deputy Federal Security Director.
The documents show Customs officials reporting that one of the invited individuals had given "
CBP Chicago a hard time
" following the last tour and noted three of the invitees had had investigations against them, which had since been closed. Another invitee had an active investigation pending.
"Logically, information that is too sensitive to provide to Judicial Watch and the public should not have been given to a 'community engagement tour,'" said Judicial Watch President Tom Fitton. "The U.S. government has been aware for years that Minnesota is a hotbed of Somali terrorist-cell activity. The behind-the-scenes tours and security briefings of the Minneapolis airport very well could have created a threat to public safety."
In August 2016, the Judicial Watch blog,
Corruption Chronicles
, reported on the Muslim airport tour story: "The Obama administration gave Somali Muslims behind-the-scenes tours at a major U.S. airport after the group complained to Homeland Security Secretary Jeh Johnson about feeling harassed and profiled,
government records
obtained by Judicial Watch reveal. The special security tours not offered to any other group occurred at the Minneapolis-St. Paul International Airport after Department of Homeland Security roundtable meetings with local Somali leaders to obtain feedback for 'modifications to practices that would allow for operations to be more culturally sensitive.'"