Protester featured in iconic Ferguson photo found dead of self-inflicted gunshot wound
UPDATED at 9 a.m. with additional detail about the
shooting, background
ST. LOUIS • Edward Crawford, the man featured in a
Ferguson protest photograph throwing a tear gas
canister back toward police, was found dead
overnight, his father said. Police say it appears
the death was from a self-inflicted gunshot wound.
Crawford's father, Edward Sr., confirmed his son's
death to the Post-Dispatch. He said his son's
mother called him and they went together to the
morgue early Friday to identify their son's body.
Crawford Sr. was in tears Friday as he spoke with
a reporter.
Police have not released the victim's name. But
a detective confirmed the shooting, saying it was
reported in the 1400 block of Salisbury Street, in
the city's Hyde Park neighborhood.
He was in a car when the gun went off. Two
women were in the car with him, police say. The
women told police that Crawford had started talking
about how depressed he was. They heard him
fumbling around for something, and the next
thing they knew he shot himself.
Crawford's father, 52, said he believes it was an
accidental shooting, not intentional. "I don't believe
it was a suicide," he said. He said investigators
weren't saying much to him yet. "They're being
hush-hush," the father said.
While police say it was self-inflicted, they say that
doesn't conclude if the victim shot himself on purpose
or if the gun discharged accidentally. The case is
being handled by district detectives, not homicide
investigators.
+2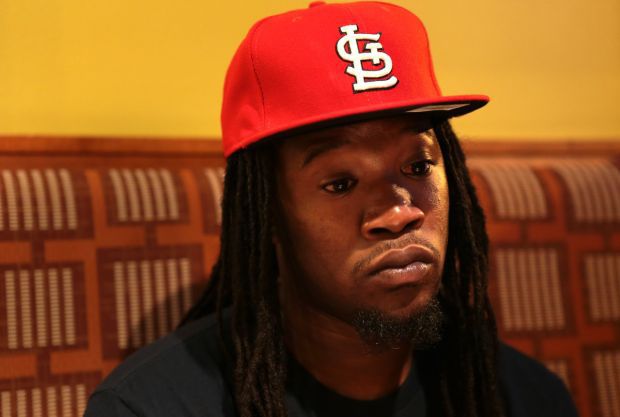 Edward Crawford Sr. said he last saw his son two
days ago; he was in good spirits, certainly not suicidal.
"He was wonderful, great, always in a good mood,"
the father said. "He just got a new apartment and
was training for a new job."
He said his son was training for a job at a Schnucks
warehouse.
The younger Crawford, 27, of University City, was the
father of four children. "He loved them to death,"
Crawford Sr. said.
In 2014, during the Ferguson protests, Crawford
grabbed a smoking tear gas cylinder, fired by police
at Ferguson protesters, and threw it back. In a
photograph taken by Post-Dispatch photographer
Robert Cohen, Crawford became an iconic image
of the protests along West Florissant Avenue.
Crawford found instant fame after coming forward
as the man in the photograph.
The incident was part of protests on Aug. 12-13, 2014,
near Chambers Road. The photograph was part of
the Post-Dispatch's
coverage that won
the Pulitzer
Prize for breaking news photography in 2015.
For many, the act bottled up all the anger directed
at police after the shooting of unarmed black teen
Michael Brown. It represented defiance against
police aggression. He told the Post-Dispatch that
throwing the canister wasn't an act of rebellion, but
an instinct.
"I didn't throw a burning can back at police," Crawford
told the newspaper in August 2015, after
the
county counselor's office cited Crawford
under
two county ordinances for interfering with a police
officer and assault. "I threw it out of the way
of children."
The case is pending. A court date is set for later
this month, County Counselor Peter Krane said.
After learning of his death Friday morning, Missouri
Sen. Maria Chappelle-Nadal, D-University City,
reflected on social media about what he had meant.
"He is #Ferguson's hero," the senator wrote on
her Twitter account. "For those of us tear-gassed,
he was our local champion."
Christine Byers of the Post-Dispatch staff contributed
to this report.